Totally new?
Get your chart here!
This is the most basic Human Design chart with everything you need to know to start to decode your unique blueprint and enter the journey of your experiment.

Watch the following video to understand what you will be looking at, download your chart or save it to the library, and come back here for more information!
This is the most comprehensive and simply explained video on the different elements in your Human Design chart. Even if you are well versed on your blueprint, it's not to be missed!
Ever wonder if there is an easier way? The journey of self-discovery is challenging enough. What if there was a map towards your highest potential? A guide to validate the path of least resistance.

Maybe you've heard of this system called "Human Design," but all your futile attempts to decipher these funny lines and numbers actually left you feeling even more frustrated, bitter, angry, and disappointed. You know your overly logical mind is calling the shots, but you can't seem to find your way out of the mental gymnastics, and now your body (and everyone around you) is feeling the pressure.

We've been there and we hear you. As fellow spiritual seekers and self-development enthusiasts, we're committed to providing you all of the tools to not only understand yourself on a genetic level, but to take it a step further towards fully trusting the wisdom of your unique energy body. This isn't about just learning the game. It's about practice. Experiencing your DNA mechanics at play is the ultimate self-awareness.
We want you to not only break down the Human Design system with ease, but to fully embody your gifts without feeling overwhelmed, develop your own intuition, cultivate your own strategies to navigate your life, and support your loved ones in achieving the same. In everything that we do at Holistic Human Design, we seek to validate your experience, which allows you to confidently radiate your purpose towards the world. You are a beacon of light – we simply remind you to flip the switch.
Self-Study At Your Own Pace
Discover the fundamentals of the Human Design system with our self-paced courses. With our various packages, you can choose to purchase content relevant & applicable to your specific blueprint only -OR- investigate all types to understand & amaze your friends, family, and clients.
Is the Shift hitting the Fan?

On this human experience we aren't meant to do life alone! We all need guidance and direction from time to time. If you're in the middle of a life crisis, at a crossroads, need clarity in making a decision, or a helping hand to move forward on your spiritual human evolution journey, we're here to help. You're soul will know.

An Invitation to Imagine
You've read all of the self-improvement books and dabbled in the spiritual modalities. 
You've heard all about "Love and Light," but most days you feel unable to find your true essence, wondering why you can't just trust that it's all going to turn out okay.
You try your hardest to be self-aware, but you sometimes feel like you can't explain your needs or what you're feeling, perhaps even creating strain in your relationships.
You desperately seek external validation and somehow, despite your best intentions, you're living the life that others have decided for you. 
Or maybe you're feeling completely burnt out at your mundane job, and know deep down inside you're destined for more.
You want to know how to transcend your fears, the judgement and shame you inherited as a child, the anger and frustration that plagues you. Externally, you're looking for a sign.
 You long for a life of freedom, of flow state, of alignment with your Soul's purest yearnings for you. Fully trusting, fully satisfied, completely at ease, peaceful, and joyously delighted by life's beauty. You envision yourself living your truth with confidence, absolute presence, and abundant vitality.
You're wildly familiar with the multitude of self-awareness systems out there, but they're all so overwhelmingly packed with information that you're not sure where to even begin.
You want a solution to not only guide you but to help you serve your clients, your loved ones, and the world.
We get it, there's so much information!
Human Design, Themes of Consciousness, Yoga, Breathwork, Energy Healing…
AH! Where to begin?! 
We felt the same way.
You don't need another over-complicated esoteric system – you need practical tools allowing you to blend the science with the spiritual, to tap into your fundamental consciousness to heal your deepest wounds from the inside out.
Ultimately, you want to feel
free
to be who you've always known, deep down, you came here to be, but until now thought was too good to be true.
Luckily, we've investigated and experimented to remove the guesswork for you. Not to worry, we break it down with our own empowering and simple language  (we don't like the "old" pessimistic language, either!) We additionally provide our expert suggestions and opinions on which practices and aspects to focus on based on your design.
Last but not least, we harness the power of community support to build confidence and learn from a variety of perspectives 
What would your life look like if you finally gave yourself permission to live your highest truth and had the tools to do so? 
Your local starseed intuitive & spiritual guide you can lean on when you need to feel seen, grounded, and brought back down to Earth.
 As a splenic projector who was born on her Chiron Line (astrocartography) I've been obsessed with shadow work.
In owning my part and responsibility in my own life and creation of it, and having the courage to do the inner work to reconcile both the light and dark aspects of myself, I've been witness to and experiencer of miracles in my life by fully stepping into the Divine synchronicity with full faith that being of service to you and paying it forward essentially grants us these miracles. 
The clarity I've received in my life through the study of these systems has helped me on my path, and I want to share these gifts with you.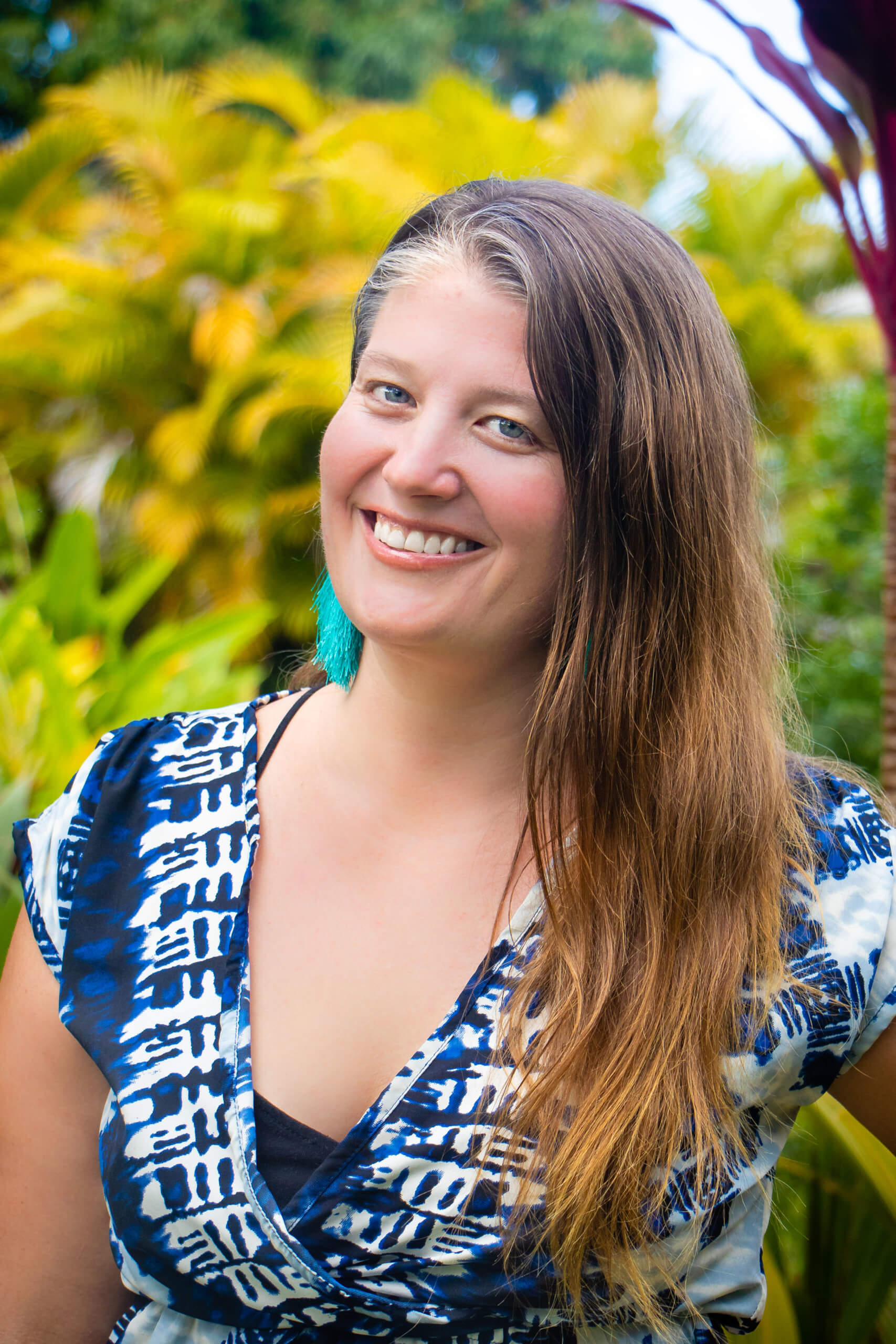 Wyndstorm currently lives on the Big Island of Hawai'i as a professional housesitter with her soulmate & partner of 10 years, tech wizard Ethan.
Having fully committed to teaching what she knows through Human Design and Consciousness thought identifcation, her intention is to further awaken and enlighten society to what is possible through self-awareness practices and what it means to be "service to others," so that all can experience the magic of living in higher states of awareness.